Dean Engineering Limited

---
Sold to a Strategic Trade Acquirer from the Engineering Sector
Reference: 1410
Location: Gloucestershire
Turnover: c. £530,000
Reason For Sale: Retirement
Dean Engineering Limited is a well-established engineering company with a diverse capability covering cad design, conventional and CNC milling and turning, welding & fabrication, grinding, jig boring, EDM activities and 3D modelling.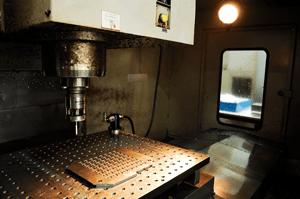 Accredited to BSI ISO 9001:2008 standard, the Company provides single operation tools through to fully managed projects and is well placed to serve the needs of the markets in which it operates.
Acquire Business Sales brokered the Sale to East Kirkby Engineering Ltd, a strategic acquirer that has made acquisitions within the UK engineering sector previously.
Acquire were instructed by Dean Engineering's MD and majority shareholder (Andrew Sterry) following a series of initial telephone conversations to introduce our confidential strategies and a meeting to appraise the Company profile and market saleability.
The selling strategy included the production of a high quality sales document followed by the strategic identification and confidential targeting of trade acquirers from the UK engineering sector, which resulted in over 60 expressions of interest being received, and 20 signed NDAs / Confidentiality Agreements returned.
Acquire received multiple offers from prospective acquirers, and managed the sale negotiations to a successful conclusion with EKE Ltd within a swift and concise timescale.
"Despite being more expensive than the other agents we spoke to, we recognised that Acquire offer significant expertise in the sale of businesses with specialist activities, and were a particularly good fit to handle our company sale in the UK engineering and manufacturing sector"

Andrew Sterry | Ex-MD and Shareholder | Dean Engineering Ltd
The sale of Dean Engineering Limited represents another success story for Acquire Business Sales Limited and delivers another exceptional case study highlighting our selling expertise on Engineering and Manufacturing Deals in the UK M&A sector.
The Acquire team would like to thank Andrew Sterry and the other 'ex' shareholders of Dean Engineering Limited for the opportunity of being able to represent them in the identification of suitable acquirers and in deal negotiations with the eventual acquirer.