Bridge Recruitment Ltd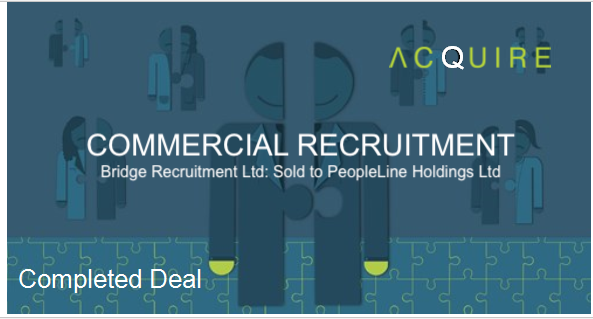 ---
ACQUIRE have Sold Bridge Recruitment Ltd, an Established Provider of Specialist Commercial Recruitment Services.
Location: Yorkshire
Sector: Recruitment & Training
Turnover: c.£700,000
Reason For Sale: Retirement
Acquired By: PeopleLine
ACQUIRE are pleased to announce the 100% share sale of Bridge Recruitment Ltd to PeopleLine Holdings Ltd, part of The Jarell Group of companies, a leading UK provider of comprehensive workforce management solutions.
Incorporated in 1998, Bridge Recruitment is an independent commercial recruitment agency which provides expertise in the recruitment of professional and commercial positions mainly for customer service, sales, administration, accounting, HR and general office work. PeopleLine are a rapidly expanding provider of recruitment and staffing solutions to a multitude of sectors with expertise in temporary, contract and permanent job opportunities.
Acquire Business Sales guided the vendors of Bridge Recruitment Ltd through the selling process using a confidential plan that included:
Confidential 'no-cost' consultancy on Business Valuation and Marketing Strategy prior to engagement
Production of professional sales documents focused on the Key Features of the opportunity
A research led marketing plan that identified trade / strategic acquirers
Confidential buyer introductions directly executed using an anonymous acquisition summary
Buyer qualification, signed NDAs and seller authority prior to disclosure of the Business's identity
Buyer / Seller meeting arrangements & follow up services
Extraction of offers for the sellers consideration
Offer appraisal including identification of potential risk areas to the seller
Deal / Heads of Terms negotiation
Deal management, buyer liaison and seller support through to completion